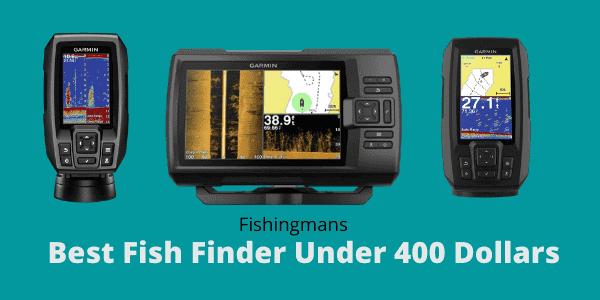 The right equipment is essential for effective fishing. A fish finder is an excellent addition to your equipment. This handy tool will increase your chances of success, no matter if you are an experienced angler or a novice. We gather the depth information on the best fish finder under 400 dollars to easily buy near the marketplace; this feature will provide some surpassing advantages.
Best Fish Finder Under 400 Dollars – Top Picks For You
1. Lowrance HOOK2 5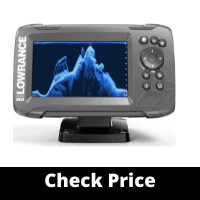 Features & keys
The Lowrance Hook2 5 is our top pick for a fish finder that costs less than $400. This fish finder is straightforward to utilize and offers excellent sonar and navigation capabilities.
The display is 5 inches in size and has a high resolution of the pixel. Precise imaging is possible thanks to this display, which allows you to distinguish details easily. The adjustable backlighting provides for excellent visibility even in bright sunlight.
You can access all menus and functions with simple keypad control. It can be customized to your liking so that you have quick access to all the critical parts.
Split viewing is another advantage of the fish finder. You can view three panels simultaneously on one screen. This allows you to display three types of sonar at once.
The fish finder includes a TripleShort transducer that offers traditional CHIRP, SideScan, and DownScan Imaging. The 3-in-1 transducer provides the highest quality sonar imaging. This transducer scans the water around and under your boat and can help you track bait and fish.
Wide-angle 200 kHz CHIRP sonar gives you twice the coverage of other fish finders. You will be ready to consult more fish with the 44-degree sonar cone angle. You can also use the DownScan to identify the structure and the SideScan to scan the area around your boat up to 300 feet.
This fish finder features an auto-tuning sonar for ease of use. The sonar settings are automatically adjusted according to the fishing conditions. This allows you to spend more time fishing than trying to figure out how to change the settings.
It measures 10 inches in length and can be mounted on the transoms of boats. It can output 200 watts of CHIRP sonar, 500 watts of DownScan Imaging, and SideScan Imaging. It delivers reliable results and fast performance.
The unit also offers detailed mapping of U.S. inland lake systems and the ability to save waypoints or trails. You can find different water features such as drop-offs and ledges by using the 1-foot contours on the maps.This fish finder also has an S.D. card slot. This is an arbitrary trait, but it can be purchased separately to upgrade your mapping and software.
2. Garmin Striker Plus 5
Features & keys
Garmin Striker Plus 5 was designed for ice fishing. The kit includes an ice transducer, a battery, cables, and a charger. You should have the best fish finder under 400 to skim our article.
The 5-inch screen allows for good viewing from distances. Moreover, the WVGA color and high resolution make it easy to read the detailed sonar returns. It makes it easy to distinguish different objects from the screen.
This portable fish finder is capable of operating in both the traditional 2D sonar and flasher modes. 2D sonar can operate at 77kHz or 200kHz frequencies and supports high and middle CHIRP. It can emit cone angles of 16 and 24 degrees, which provide good coverage and detail to depths up to 800 feet.
ClearVu sonar is also available on the fish finder. This is a great way to display fish and structures in nearly photographic images. It is only available with an additional transducer, which can be bought separately.
This unit was designed for ice fishing and had the flasher mode. This mode allows you to view sonar returns on an enlarged circular depth scale. This scale shows your fish's depth and color as they enter the sonar beam. They also offer you the rig and bait.
You can switch between sonar modes easily or view them all simultaneously on split-screen.
The fish finder also has a built-in GPS. Although it doesn't come with preloaded charts yet, you can save waypoints or create your contoured map using the built-in GPS. QuickDraw Contours provides this function. This function automatically maps the contours for the places you have visited.
It comes with a carry case. The case also contains a transducer as well as a rechargeable lithium battery. An 8-foot cable and a foam flopper are also included in the transducer.
3. Humminbird Helix 5 GPS CHIRP DI GPS G2 NAV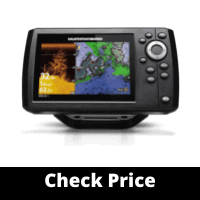 Features & keys
This Humminbird Helix 5 model is a new generation unit that comes with upgraded sonar technology. It's an excellent choice for people with high expectations. 
Most of the people searched for the best fish finder under 400 in the online marketplace.
This 5-inch display unit has good color and high-resolution features. This allows you to see clear and detailed images for both charts and sonar readings. 
The display also features LED backlighting. It can be adjusted to match the lighting conditions, making it easy to read whether you are fishing at night or in sunlight.
The Helix 5 fishfinder comes with the XNT DI T transducer and the hardware to mount it on the transom. It supports CHIRP digital sonar as well as Down Imaging. It can also provide high-definition details thanks to its 500-watt power output.
The CHIRP sonar of the 2D transducer can be modulated at a variety of frequencies. This allows for more transparent images, deeper penetration, and better target separation. Dual Beam Plus is also available on the 2D transducer. 
Conical beams of 16 and 28 degrees are used. They are transmitted at frequencies of 455kHz, 200kHz, respectively. You can choose to search a larger area or get more precise results. The Plus feature lets you combine both beams and see their results simultaneously.
The transducer can be used for Down Imaging by using 455kHz or 800kHz frequencies. The transducer emits a narrow beam that allows you to see structures, vegetation, and fish right under your boat. 
Down Imaging is only capable of reaching 350 feet. 2D sonar can go to 600 feet depth, but Down Imaging can go up to 350 feet. You can see Down Imaging and 2D Sonar side-by-side, which will help you distinguish fish from structures.
The SwitchFire sonar is another excellent feature on this fish finder in the mid-price range. You can switch between Clear or Max display modes to customize the way your sonar returns. A transparent manner reduces the amount of clutter, which allows you to focus on larger fish targets. 
The Max model displays all sonar information so that you can see more fish targets.
It also includes an integrated GPS. The unit comprises Navionics+, which provides coverage of more than 21,000 lakes across the U.S. The device offers the detailed cartography of water bodies. If you wish to purchase map upgrades, you have an S.D. card slot.
4. Vexilar GP1812 FL18 Genz Pack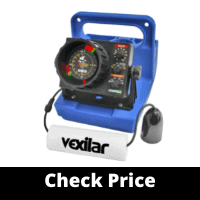 Features & keys
The Vexilar FL18 Genz pack is an excellent choice if you are looking for a fishfinder under 300 to 400 that can be used for ice fishing. It's an ice flasher unit designed with user-friendly controls and comes entirely ready for your ice fishing trip right out of the box.
This fish finder has been designed to be durable and portable. The flasher mount is also included in the blue, portable box. 
It is constructed from high-quality supplies, making it almost indestructible. 

This will ensure that you have years of reliable use. 

You can also purchase a soft case to protect your fish finder.
The box can also be used as a storage area for the transducer or battery. The blue box can be easily placed on top of a five-gallon bucket for easy access while fishing.
Also included is a 12-degree ice-ducer. This narrow cone allows you to see more clearly what is happening below the surface of the water. You can choose from five depth scales ranging between 20 and 200 feet. You can zoom in at any depth or use the Auto Zoom mode. 
Split-screen viewing is possible with Auto Zoom. It will show a half-screen zoom on the left side for the Bottom six feet when it is on.
The Bottom Lock feature can also be used to fish from boats that bounce in big waves. This feature ensures that the unit is locked to the Bottom and provides exceptional performance in calm and rough water.
The device also has a 10-step interference-rejection technology. 

You can adjust the Gain knob to find the ideal interference rejection setting. 

This will eliminate interference from all devices around you.
The battery in this fish finder is a 12 volt 9 Amp-hour battery. It will last for more than a day if it is adequately charged.
5. Garmin Striker Plus 5cv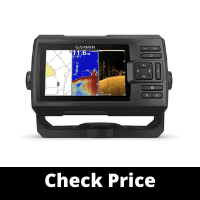 Features & keys
The Garmin Striker Plus 5cv model is similar to the Striker 5 ice bundle. This option may be more suitable for people who prefer ice fishing to boat fishing.
The display is 5 inches wide, which allows for a more expansive view. This will enable you to display more information at once and make it easier to read from afar.
The split-screen mode is another advantage to this display. This feature allows you to view multiple types of data simultaneously. You could, for example, display ClearVu sonar, CHIRP, and the map side-by-side.
ClearVu and CHIRP sonar are available on this fish finder. The high CHIRP sonar can support frequencies of 77/200kHz in the mid and high CHIRP modes. It can transfer measurements of up to 2,300 feet in freshwater with the CHIRP sonar mode.
ClearVu operates at frequencies of 260/455/800kHz. The sonar scans the area below your boat, and the returned signals create almost photographic images. 
The article will help you to choose the best fish finder under 400 dollars as a beginner. This sonar makes it easy to identify structures, submerged objects, and target fish.
ClearVu's sonar can only reach a lower depth. It can only get 250 feet. It is, therefore, more suitable to scan freshwater. It can be used in saltwater, but you will need to keep it out of shallow water.
The fish rangefinder also begins with a GPS. This fish finder is not equipped with a Chartplotter and doesn't include any charts. You can't even upgrade it with charts. Instead, you can use the GPS to mark waypoints or record routes.
The unit also offers QuickDraw. This function uses sonar and GPS data to create contour maps. This feature is easy to use and doesn't require any technical knowledge. 
As you navigate the shorelines and other water bodies, it automatically generates H.D. maps.
6. Garmin Striker Plus 7cv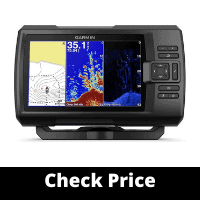 Features & keys
Garmin Striker Plus 7cv is another excellent option for those under 400. 

This model is part of the Garmin Striker Plus series. 

It features superior sonar technology than the original Striker series.
This fish finder has a 7-inch display. This fish finder features an LED backlighting and a high-pixel matrix. It is also equipped with an anti-glare lens that makes it easy to read in direct sunlight.
This large screen gives you a better view of the water below your boat. You can also view the information split-screen, which has three panels side-by-side.
ClearVu and 2D CHIRP sonars are available. 2D CHIRP sonar operates at 77/200kHz frequencies and sends out a continuous sweep of low-to-high frequencies. Conical beams are used with angles of 45 and 15 degrees. This gives you a better view of underwater environments, making identifying fish targets and structures easier.
ClearVu sonar uses the 455/800kHz frequency, which provides a clear view of whatever passes beneath your boat. The unit emits a thin beam that can reach up to 250 feet in depth, giving you a clear idea of fish and submerged objects. It can also reach depths of up to 2,300 feet in freshwater.
SideVu is not included in this fish finder package. If you would like to buy this unit with SideVu instead of ClearVu, look for the 7sv model.
This fish finder not only has sonar but also provides navigation features. The GPS allows you to create routes, mark waypoints, and track your boat's speed.
It does not include maps, but QuickDraw Contours features are available. It can be used to draw the depth contours of a lake. These maps are automatically created as you fish.
The mid-priced fish finder features Wi-Fi connectivity. You can use it to access ActiveCaptain, which allows for intelligent notifications such as text messages and calls. The app also provides access to charts, updates, and the boaters community.
PEOPLE ALSO ASK (FAQ)
#1 Which is the ideal screen size for a fish finder under 400?
There is no standard size screen for fish finders, and it's all about the effectiveness of transmission.
Screen displays typically measure approximately 3.5 inches. However, there are smaller screens and larger displays.
#2 What are the differences in finders to consider when ice fishing?
The temperature of the water is an essential difference. Waves travel differently in different media. 
The slower movement of waves through cold water can impact how the fish finder interprets information. A flasher's transducer has a different design. 
We recommend that you learn how to read the fish flasher's round display if you are interested in ice fishing.