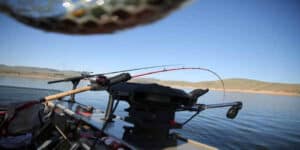 Paddling a kayak the whole day is such a tiring job that even if done correctly often ends up disturbing the fish. Installing a standard motor on your kayak may sound like a good idea until you realize that the rattling noise will only make getting the elusive fish twice as tricky. How do you retain the traditional benefits of kayaks without having to paddle your way around? This is precisely where an investment in the best trolling motor for fishing kayak comes in handy. Unlike traditional motors, trolling motors operate quietly, allowing you to approach still waters without causing a scare. Besides that, unlike paddling, you only need to sit comfortably on your selected fishing kayak and do what other anglers do – catching the fish.
Unfortunately, finding the perfect trolling motor for your fishing escapades requires you to go through long and sometimes empty reviews. And because you want to get good value for your money, you might even give up along the way – due to an informational overload.
But it doesn't have to be like that always. In this comprehensive discussion, we are going to break things down for you, so you have an easy time finding a motor that has the right amount of torque.
Top 10 Best Trolling Motors for Freshwater and Saltwater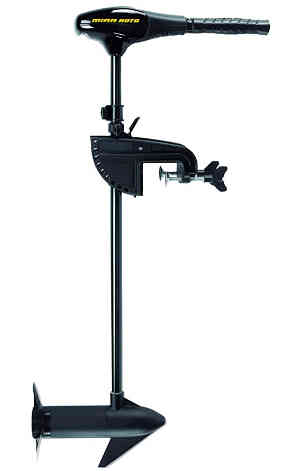 Feature:
When it comes to trolling motors for fishing kayaks, Minn Kota is one of the biggest brands that you are going to come across. They have many trolling motor models, and their Endura C2 stands out as one of their best inventions. It is designed for use in freshwater and powered by a 12-volt motor that provides a thrust level of 30. This makes it ideal for use on fishing kayaks measuring 12 to 16 feet.
What we particularly love about the trolling motor multiple speed settings. It is fitted with five forward speeds and three reverse speeds, which make controlling the motor much more effortless.
On top of that, the trolling engine comes with a six-inch ergonomic telescoping handle. The handle is designed to tilt and twist, thereby giving you better control over the trolling motor's speed and steering. It features a 30-inch composite shaft that is built to be durable and robust for long-lasting performance. Similarly, the cylinder is backed by a lifetime warranty for your peace of mind. As if that's not enough, the trolling motor is made to be energy efficient to ensure you get a good life out of its battery. This is an excellent addition, especially if you are planning on spending just a couple of hours out on the water.
Pros:
Offers great performance
The motor is covered by two years warranty
Runs quietly without spooking fish
Built to last for many years
Cons:
Reverse speeds don't offer the best performance.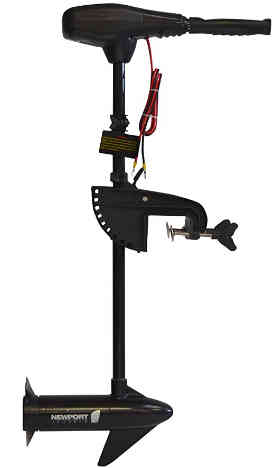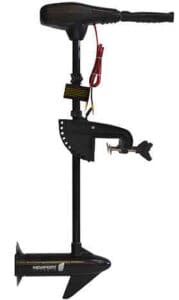 Next up, we have this model from Newport Vessels brand that boasts a whole 55 pound of thrust power—as such, maneuvering your kayak through the water and especially severe conditions like high waves are going to be comfortable with this trolling motor.
What makes this trolling motor one of the best options available on the market is its durable construction. For instance, its shaft is made of high-strength fiberglass to offer you the best performance for years to come. In addition to this, all the hardware things. At holds, it together is constructed of durable stainless steel. The best part is that all these materials are corrosion-resistant, making the trolling motor perfect for saltwater use. Additionally, this 8-speed trolling motor features five forward speeds and three reverse speeds. This ensures you have total control of the product for the smoothest ride ever.
It also comes with six-inch telescoping and extendable handle made from lightweight aluminum to offer you a comfortable grip.
It is fitted with a six-inch shaft that is fully adjustable depending on the height you feel convenient to operate at the Last but not least, it features a five-point LED battery meter that lets you know how much battery power is remaining. This way, the trolling motor was running out of control when you least expect.maybe Best trolling Motor for Fishing Kayak for Freshwater 
Pros:
Powered by 12V motor to provide you with plenty of power
Can be used with inflatable boats, canoes, fishing boats, kayaks and much more
For use on both freshwater and saltwater
Inexpensive and easy to use
Cons:
Vibrates a little bit when at maximum thrust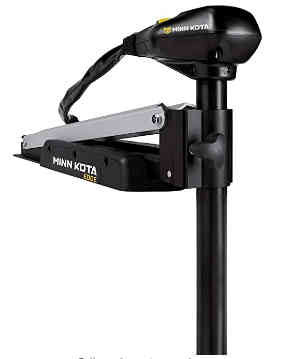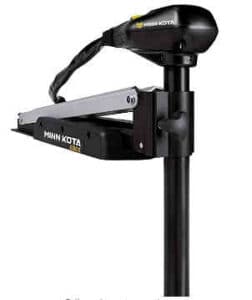 It is featuring a 45-inch composite shaft built to last for life. This trolling motor does not disappoint when it comes to durability.
The shaft is designed to flex on impact and will not corrode or even break with extended use. The motor comes with a two-year warranty for maximum durability.
In addition to this, it boasts an ergonomic foot pedal to help control the motor's speed without manually steering it.
This ensures your hands are free for other important tasks like fishing. However, it will take a bit of getting used to primarily if you have never used a foot-pedal controlled trolling motor.
Further, the trolling motor is fitted with a latch and door mount for easy removal of the engine. The mount and store the engine safely.
The mount features anodized-aluminum arm for rock-solid performance. On top of that, it comes with five forward speeds that provide precise control for ultra-responsive steering. Also, the Minn Kota Edge 45 is equipped with a directional illuminated indicator that is easy to read. The index helps you focus on fishing by providing you with information about where you are headed.
Besides, it features flared blades with a swept-back design for reliable and unrelenting prop performance.
Pros:
Includes a powerful, robust and reliable blades
Mounts with ease
Offers smooth operation
Extremely durable and super strong
Cons:
Suitable for use on small boats only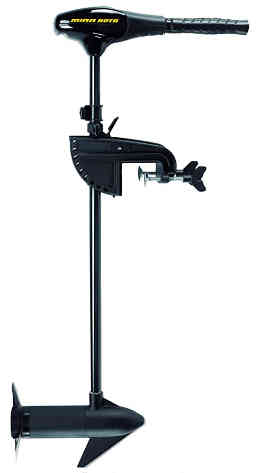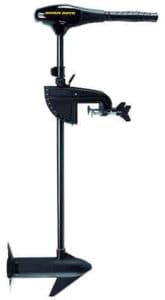 If you are looking for a durable trolling motor that will withstand the test of time, you should consider the Endura C2 55 by Minn Kota. Minn Kota has proven itself to be a reputable and reliable brand over the years, so the motor's craftsmanship is concerned.
The trolling engine features a mighty composite shaft that is made from nearly indestructible materials for maximum durability.
The beam is corrosion resistant and is designed to flex on impact to ensure it does not break.You know what else?
Despite having a mighty motor, it runs quietly without spooking fish thanks to its unique bearing system.The system works by producing low and high torque to cut down on noise so that the fish will never hear you approaching. Also, it features a powerful weedless 2-Prop that produces up to 55 of thrust power to ensure you don't spend most of your time-fighting weeds. This is because it can take on the dense vegetation easily without even draining the battery.
In addition to this, the trolling motor comes with a six-inch telescoping handle to provide you with the most comfortable steering and hand control you can ever find.
The result is you get to spend more time on the water and enjoy convenient steering. Likewise, it is fitted with flared swept-back blades that have bee. N reported delivering reliable performance throughout the life of the motor.
Like most of Minn Kota's trolling motors, this too comes with a lever-lock bracket for a much more reliable and trustworthy mount.
The bracket also makes it easy to dismount the motor for storage when your day is over.
Pros:
Made of materials that resistant to UV damage, flexing, and warping
Delivers ultra-sturdy mount
Motor runs quietly and does not overheat
Includes five forward speeds and three reverse speeds for maximum control
Cons:
May come with a few manufacturer's defects.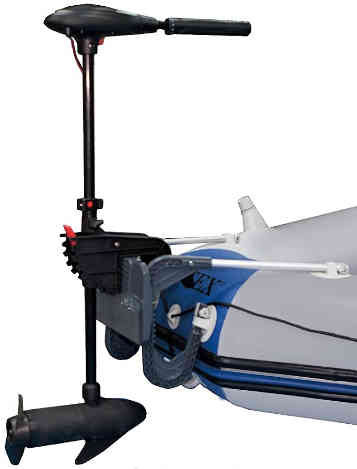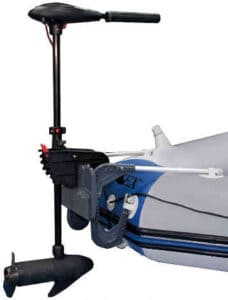 This trolling motor is designed for most Intex boat models, including Excursion 3,4, 5, Challenger 3, Mariner 3, 4, as well as the Seahawk 2, 3, and 4.
Besides, it is compatible with various inflatable kayaks featuring inbuilt motor mount fittings. The trolling motor runs on a 12-volt battery with a minimum rating of 60-ampere hours.
However, you will need to buy the best trolling motor battery because it is not included with the purchase, which should not be a big deal since the motor itself is inexpensive. Moving on, the Intex Trolling Motor is fitted with a quiet motor with a thrust power of 40lbs.
The engine features a cooling water system to ensure it does not overheat as well as a digital maximize control module for efficient performance.
On top of that, the motor comes with a Soft Start function that helps you choose the desired speed for longer running times.
Similarly, thanks to its weed escape mode, getting out of severe weed tangles is a breeze.The Intex Trolling Motor is equipped with an adjustable handle that extends up to six inches, depending on your needs.
The handle can tilt 45, 30, 15, and 0 degrees upward as well as 0 to 75 degrees downwards for added comfort. It also comes with five forward speeds and three reverse speeds that make control a lot easier.
Pros:
Perfect for saltwater and freshwater adventures
Adjustable mounting bracket for easy installation and removal
Includes a steering tension knob for better control
Comes with a tilt-lock lever for efficient mounting
Cons:
Poor customer service from the manufacturer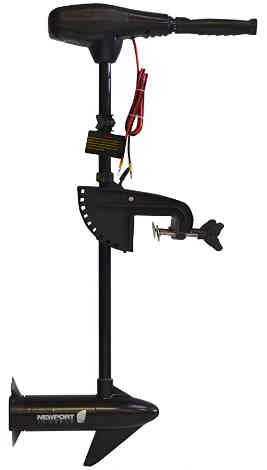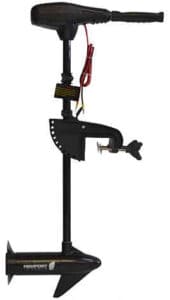 It is featuring the famous transom mount design. This trolling motor will fit in almost all types of inflatable kayaks, fishing boats, dinghies, and tenders available on the market.
It is constructed using the highest-quality materials to provide you with a long-lasting performance for years to come.
On top of that, it comes with five-forward and three reverse speeds to ensure you enjoy a smooth ride with better control.
As if that's not enough, the motor features a five-point LED battery meter on its head that lets you know the battery charge is remaining.The meter is well illuminated for ease of use during the day and night and provides accurate readings. In addition to this, it is equipped with a durable motor head that can withstand the different hardcore boating rigors even after years of use.Additionally, the Newport Vessels NV-Series spots a 30-inch shaft made of composite and high-strength fiberglass.This makes it super durable, impact-resistant, and at the same time, lightweight for ease of carrying.Also, its mount is constructed from heavy-duty nylon for maximum durability while its other components are made of stainless steel, zinc, and aluminum material.
Consequently, the trolling kayak will perform great in both saltwater and freshwater.
You know what else? Well, the motor includes a 6-inch telescoping handle that is both ergonomic and lightweight.
The handle makes controlling this trolling motor a breeze, and you don't have to worry about hand-fatigue.Besides, it is powered by a 12-volt Marine battery or Deep Cycle battery, which unfortunately is not included with the purchase.
Included with the package is also a two-blade propeller that ensures better performance.
Pros:
Backed by a one-year warranty from the manufacturer
Its components are made of corrosion-
resistant materials
Relatively inexpensive
Lightweight construction for ease of transportation
Cons:
A bit slow if used on a big a kayak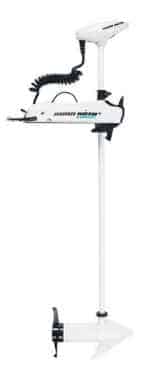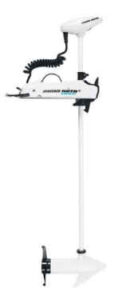 With a massive 70lbs of thrust power, this trolling motor can pull both medium and more massive vessels with ease without compromising on the speed and featuring corrosion-resistant materials. The engine is built specifically with saltwater in mind.
However, unlike some other saltwater trolling motors, this model can also be used in freshwater.To get the best control over your kayak, you need a trolling motor with a decent shaft length. This motor comes with a 54-inch shaft for optimal performance, especially in the deepest of water.The long shaft also makes it easy to operate the kayak in rough seas or during the harshest weather conditions.
However, you may experience working your boat in shallow water due to the shaft being too long. Of course, a big issue if you only fish in deep waters.
As if that's not enough, the Riptide 70 SP features a CoPilot hand control that makes piloting the trolling motor an absolute breeze for anyone, including beginners.It also includes an optional foot pedal in case you prefer controlling the motor's speed via your feet rather than your hands.
In addition to this, it features a deploy-assist lever that makes it much easier to put the engine down. Additionally, it features a digital-maximize functionality to allow more fishing time per battery charge. It does this by delivering only the precise amount of power needed to ensure there is no wasting of energy. This, in return, helps to extend the battery life of the motor.
Pros:
Allows you to add an optional i-Pilot
Boasts bow mount design for better control and maneuverability
The optional foot pedal can help free your hands for other tasks
Impressive thrust power
Cons:
• May does not work with small kayaks because of its bow-mount design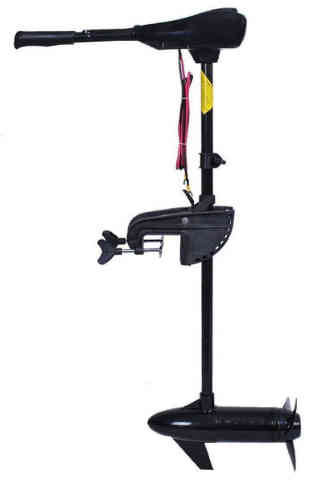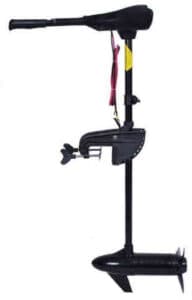 This little powerhouse is specially designed for small to medium-sized boats up to 16-feet long, including kayaks with brackets, inflatables, canoes, Jon boats, Gheenoes, and tenders.It features a welded three-blade propeller that allows for the motor's smooth navigation, primarily through underwater marsh and grass.It should also be noted that this trolling motor is only ideal for freshwater use.
For the most part, people have raved about its high-performance battery indicator that is built into the trolling motor; a feature that you may not find is some expensive models.
The symbol boasts 10-points LED lights to let you know when the battery is running low so that you don't end up with a drained battery when you least expect.On top of that, it runs on a 12-volt battery to provide you with sufficient power throughout the day.
Another feature worth noting is the six-inch telescoping handle that helps you control the motor smoothly and comfortably.The handle can be adjusted to the height you feel comfortable operating the trolling engine sat. As with most trolling automobiles, it features five forward and three reverse speeds when it comes to speed options.The different speed settings allow for better control in varying conditions it exposed.
Additionally, the Goplus New 55lbs is equipped with a 36-inch shaft made from nearly indestructible materials for maximum durability. Since the beam is neither too long nor too short, you can operate your kayak in the shallow water and relatively deeper or rough seas.I hope Best trolling Motor for Kayak for Saltwater
Pros:
For ease of use comes with an instruction manual
Navigates smoothly through thick vegetation
Includes a transom mount for quick installation
Plenty of power for the price
Cons:
It only works with small to medium-sized fishing kayaks.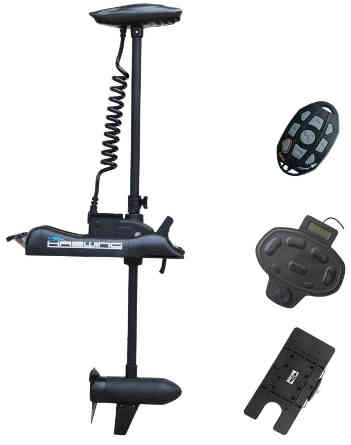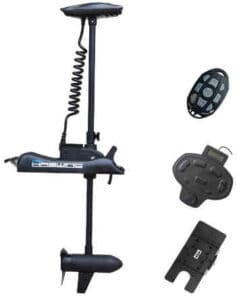 The Protruar 110lbs Electric Trolling Motor is yet another excellent option that is fitted with a potent motor. It is powered by a brush-less 2HP 24-volt engine with a 630rpm when its propulsion speed is at full power. It was suitable for use on a wide range of kayaks and waterways.In addition to this, it features corrosion-resistant materials and components; therefore, it can be used in both saltwater and freshwater.It comes with a 38.5-inch shaft made from durable materials to offer you peak performance even after years of use.
Similarly, the shaft makes it easy to use your kayak in both shallow and deep drinks of water.
As if that's not enough, the trolling motor is equipped with a LED battery indicator that provides you with details of how much charge the battery has.While most trolling motor models come with an eight-speed setting, the Protruar 110lbs Transom Trolling Motor boasts double that.
Simply put, it features eight forward and eight reverse speeds for the motor's enhanced control in different water conditions.
To top it all up, it boasts a folding handle.That can be tilted up to 100 degrees, depending on your personal preferences.Also, it is fitted with a tilting lever holder with up to six settings to help you adjust the trim height via a quick lock.
Last but not least, this trolling motor spot an auto-propeller cut-out system for added safety when there is a collision.A two-year warranty also backs the product for the engine for your peace of mind.
Pros:
Performs well with different types of kayaks
Lightweight for ease of carrying
Durable construction
Plenty of speed control options
Cons:
The motor is a little bit noisy.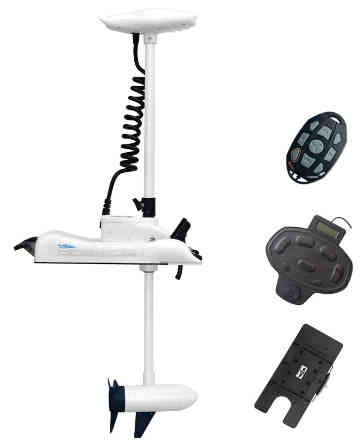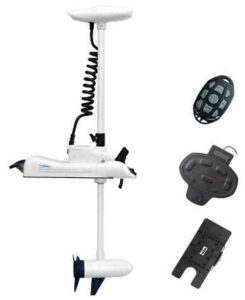 This is probably the most inexpensive trolling motor in this guide. However, just because it is cheap does not mean it is of inferior quality compared to the rest.It has some great features, and that is why this list of the best trolling motor options would not have been complete without us mentioning it.Although it does not have those fancy features on some expensive models, including multiple speed settings, it can be a great purchase if you are working on a very tight budget.
It is featuring 20lbs of thrust power. This trolling motor is only ideal for the smallest of kayaks and boats.Therefore, if you are going to be using larger vessels, you have to consider another model. It also comes with an adjustable handle that makes controlling the motor in different conditions a breeze.Despite its budget-friendly price, it still manages to go with a LED display to ensure you are always aware when the battery charge is running low.
Additionally, it boasts two forward speeds and a single backward speed setting that allows for optimal control.
Although the speed settings are limited, we have to agree that the price is reasonable enough. The best part is that it is backed by a two-year warranty that goes a long way to prove the motor's durability.It also features a 23.6 inches shaft, thereby making it suitable for use in shallow waters.
Pros:
At only 8.5lbs it is very light in weight
Powered by a 12-volt battery
Designed for saltwater and freshwater use
Just enough power for operating small kayaks
Cons:
Some of its parts, especially the mounting bracket, are made of flimsy plastic.
Buying Guide- Which is the Best Trolling Motor for Fishing Kayaks for Freshwater and Saltwater?
With many different trolling motor models available, all of which come with various features and prices, choosing the best one can be confusing. Most people usually end up with the wrong one.
This guide seeks to help you cut through those trolling motors that are not ideal for your needs. All you need is to consider these specs when making your next purchase:
Thrust Power: One of the factors to consider is the thrust power of the trolling motor, measured in pounds/lbs. The thrust power usually depends on the size of your vessel.
For instance, if you are going to use the trolling motor on a kayak under 12 feet, you will need at least 32 pounds of thrust to achieve maximum performance. However, if your Kayak is more than 14-feet long, and then you will need a trolling motor with the most thrust power you can find.
Length of the Shaft: The length of the shaft plays a significant role you will have over your kayak. Rods that are too long make it easy to operate your boat in rough and deeper waters but difficult or even impossible to work in shallow water.
On the other hand, too short shafts are designed for use in shallow waters. Always try to As a rule of thumb, find a trolling motor that strikes a balance between short and long shaft for maximum performance.